Contacting Us:
Tom McKee, K4ZAD
104 Water Leaf Lane
Cary, NC 27518-9728
(919) 851-2542
Main
E-Mail
or make this: ( archivist-1 at imradioha dot org ) into a true e-mail address

WAD-WAS-WAY-WBL-WCM-WFN-WGK-WJG-WLC-WMI --- WAD-WAS-WAY-WBL-WCM-WFN-WGK-WJG-WLC-WMI
About the Archivist/Webmaster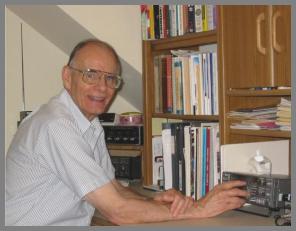 I grew up around the Great Lakes (Alpena, MI and South Bend, IN) and have had a shortwave receiver since 1947. I also have a strong long-term interest in the inland rivers, both the steamboat era and modern tow-boating. I started listening to the towboat radio traffic almost as soon as I got that first receiver (a Hallicrafters S-38), and to the great lakes traffic when I discovered it a little later.

In the late 70's to mid 90's I had a Drake TR-7 transceiver with the Aux-7 board set up to receive WCM's 4, 6, 8 and 12 MHz channels. It carried the most traffic and was the strongest "tow" or "laker" station at my Virginia and NC locations. My current shortwave receiver is a SDR box (the AirSpy HF+) hooked to my PC .
I am 85+, a 1956 Purdue EE grad., and have been retired from General Electric (mobile radio product design) for many years. I am an amateur radio operator (K4ZAD), but generally prefer listening and experimenting/building to operating. Current ham interest is receiving and transmitting (with very low power) WSPR signals. I am also the webmaster for The GE Mobile Radio History Archive . I currently live near Raleigh NC which is, unfortunately, very far from the rivers.

Tom McKee





Except as noted

here

most of the site's content is in the public domain.

Last Updated