The High Seas Stations
The emphasis of this site is on documenting the history of radio on the Great Lakes and inland rivers. Though my original intent for this page was to provide only a listing of the high-seas stations and some links to more information about them on other sites I recently found (2013) that many of the external links were dead. Thanks to the Internet Archive I have recovered some of the missing pages and even added other information that has been long gone from the Internet. Additionally, several new external sites were added. Please send corrections, additions, links etc.
Above: Unknown CW station (probably not
Great Lakes) estimated to be about 1920





Right: This may be Eleanor Steel of Schenectady NY at
the operator position aboard the Marconi Yacht Elettra.
The 1922 photo was taken on the Hudson. She's probably not a YL OP, and it's just a publicity shot. The nameplate
above her head says "Marconi Wireless Telegraph."

Here on WB0JNR's maritime site (with the list courtesy of N1EA) is an extensive PDF listing of the high seas stations with latitude and longitude co-ordinates. The date of this listing is unknown.


The Big Four - Radiotelephone
Here's a 1993 Frequency List for the high seas radiotelephone stations.

WLO Mobile Alabama - Listed first because it was the last one to shut down - was the main station in a four station network operated bynow defunct Shipcom.

The following three were operated by AT&T and went silent in 1999. The FCC Discontinue Order.

WOO New York - Four pages of photos from the TX site at Ocean Gate, NJ with receivers and control at One page of photos from the RX site at Manahawkin, NJ. The two long links are to Internet Archive captures of the pages which have been removed from the original site.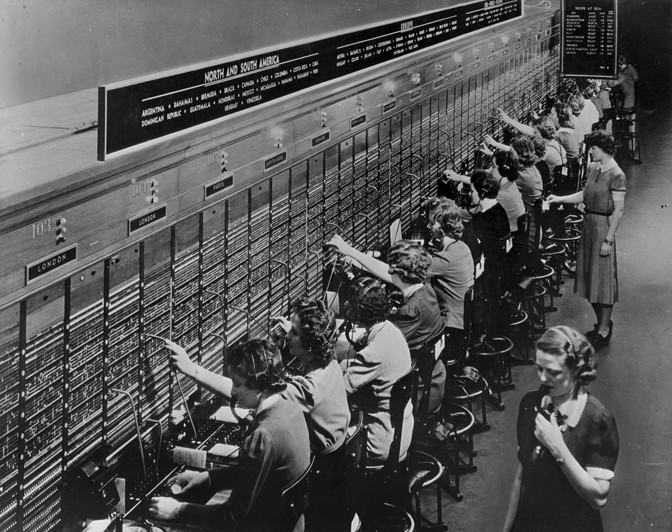 This 1943? (1953?) photo shows the NYC AT&T overseas switchboard that also connected ship-to-shore
calls from WOO (and perhaps WOM) to the land-line telephone system. The ship-to-shore
switchboard is 106 (the 4th one from the left). At the very rear is a board showing the ships at sea.
Clicking on the photo will show a very detailed version.
Article 1/12/2017 - Historic AT&T high seas radio station WOO to be demolished
K2TI, Robert P. Disbrow's excellent AT&T's High Seas Radiotelephone Service page .
Paul Thurst's article about ship-to-shore radiotelephone, CW and USCG radio.
Here's a digital format 1991 Traffic List & Weather report from WOO.
WOM Miami Florida (Pennsuco, FL) pictures transmitter , and a 1999 Article about WOM Closing.
KMI San Francisco California (Dixon, CA) - RadioMarine.org KMI Photo collection
Three KMI Point Reyes photos from Flicker: 1 2 3

The K6NCG site has page of photos from 1972 visits to stations KPH KET and KMI.
A page of photos of KMI, KFS and KPH from a 2003 visit.
Other Radiotelephone Stations
There were many smaller Radiotelephone stations that could be listed here.

CW Stations
There are many that could be listed here also, but here is some information on WCC and KPH: WCC article (In two parts) More on WCC-Chatham Both articles retrieved from the dead via the Internet Archive.
Maritime Radio Historical Society home of several marine radio station and ship radio restoration projects.
Coast Radio Stations of the World - Dedicated to the memory of these now-silent stations including a KPH page.
A nice set of photographs of California marine CW stations provided by Warren T. Reese, K6GC.




Except as noted

here

most of the site's content is in the public domain.

Last Updated