The Crew - Radio Officers and their Recollections
----------NAME----------
BOAT(s)
YEARS
Walter Chew Evans (SK)
SS Alabama (and others prior to WW1)
1921
Wilson Weckel W8AL (SK)
SS Juniata, SS Octarora, SS Tionesta
1921-23
William Hope W2EWT (SK)
Several
1933-40
Charles Leonhardt W8QD (SK)
Several - ?
1920's-30s?
Svend Gormsen (SK)
Several - ?
1930s - ?
Pete Peterson (SK)
Several - ?
1930s - ?
Edwin C. Alberts (SK)
William A. Reese
1930-38
Kenneth Goss (SK)
SS N. American & SS S. American

?

-1934-

?

Avery LaMont (SK)
SS N. American & SS S. American

?

-1934-

?

George A. Ralston
SS South American

?

-1934-

?

Joseph Sodaro (SK)
SS South American
?-1939-40-?
Alfred H. Kelley (SK)
SS South American
1934 - 1939
P. Robarts Knapp
SS South American
?-1935-?
John Kaye
SS South American
?-1940-?
William Sabo
SS South American
?-1940-?
Ted Phelps W8TP
SS S.A., SS Alabama & SS N.A.
1939-41
Charles Macomber (SK & KIA)
SS Alabama
?-1941
Julius Breit
SS South American
?-40s -67
A. A. Hansen
SS South American
1941
William Liehe
SS South American
1941
Donald Dout
SS South American
1941
Sylvester J Zachary
S.S. Col. E. M. Young
1940-41
Lowell R.Dibble W5FH
Last CW Op on S.S. Col. E. M. Young
1941
Fred Wagner
SS Alabama & SS S.A.
1941-2
Thomas O'Malley
SS South American
1942
Robert Gehrke
SS South American
1942
Wilson Weckel W8AL (SK)
SS Theodore Roosevelt
1944-45
Arthur J (Doc) Holub K6OGO
SS North American
1949-51
Robert Wilson VA1AKK
SS N. American & SS S. American
1951-2 & 61
Thomas Drake W4IWH
SS N. American & SS S. American
1958
Ray Heimberger W8TT
SS South American (Also WLC)
1957-9
Claude Sheets (SK)
SS N. American & SS S. American
?-1956-8-?
Jim Entreken
SS South American
?-1956-?
Bill Stout
SS South American
1958-9 ?
James Mulligian (sp?)
SS South American
?-1958-?
Phil Shuman NP2AG (SK)
SS N. American
1959-63
Gerald Bay W1XY
SS N. American
1960
Norman S. Walker
SS N. American & SS S. American
1960s
Ross (Parnell?)
SS South American
?-1960-?
Jim Koss
SS South American
?-1960-?
Tony Alateras (SK)
SS South American
?-1960-?
Robert Ballantine W8SU
NMD>CGC Woodrush>NOG>NMP
1961-65
Mississippi River System Towboat Radio Officers

----------NAME----------
BOAT
YEARS
J. Van Cloud
Steam Towboat Kiska
1943
Dan B. Courtney, W0ABO
USACE - St Louis District boats
1929-1966

Please let the archivist know of names, or names plus recollections, that should be included on one
of the tables above.
The names of living crew members and/or their (disguised) e-mail addresses will be removed from
the listings at their request.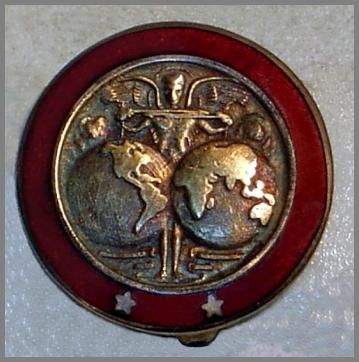 The high-seas radio-officer's service pin pictured above was awared for service in the 1920s. The actual pin is about the size of a dime. The two stars may indicate 10 years service but the company awarding the pin is unknown. Can anyone help with a company name? Thanks to Pat Ulik for the photo.
Back to the People and Their Recollections Page

Back to the Georgian Bay Line Page





Except as noted

here

most of the site's content is in the public domain.

Last Updated