WAS - Duluth, MN
This Ship-to-Shore station served the bulk-carriers and freighters on the Great Lakes and particularly on Lake Superior. I personally know very little about it and cannot remember ever hearing it.
The June 30, 1939 FCC Annual Report indicates that the initial license for WAS had been granted during the past 12 months. Frequency allocations above 3 MHz were approved during the FCC fiscal year that ended June 30, 1941.
| Former home of WAS - Taken by John Harrison Late in 2005 - The building was white during the WAS years | WAS Station Location in Duluth |
| --- | --- |
| | |
| Al Klopp at the WAS operating position - ca. 1950 Photo courtesy of Al and Doris Klopp. | Albert E. Klopp, W0QXI (SK) started with Lorain Electronics (main office was in Lorain, Ohio) in Port Washington, WI in 1940. He was an operator at marine radio/telephone station station WAD. He transferred to Duluth, MN in 1944 and became manager of Radio Station WAS. WAS was located on Chase Ave. and Hollister, in the eastern part of Duluth and not far from the city limits. There were three operators that worked at the station and one serviceman (Jim Scott (SK)) who took care of equipment on the boats. After the last boat arrived or left Duluth in the winter, the station closed until spring. The station closed permanently in 1979. After that all Lorain Electronics manually operated stations became automatically operated remote stations. Whenever there was a problem, Al had to go to one of the remote stations around Lake Superior and Lake Michigan. Al retired in 1980. |
| --- | --- |
| | |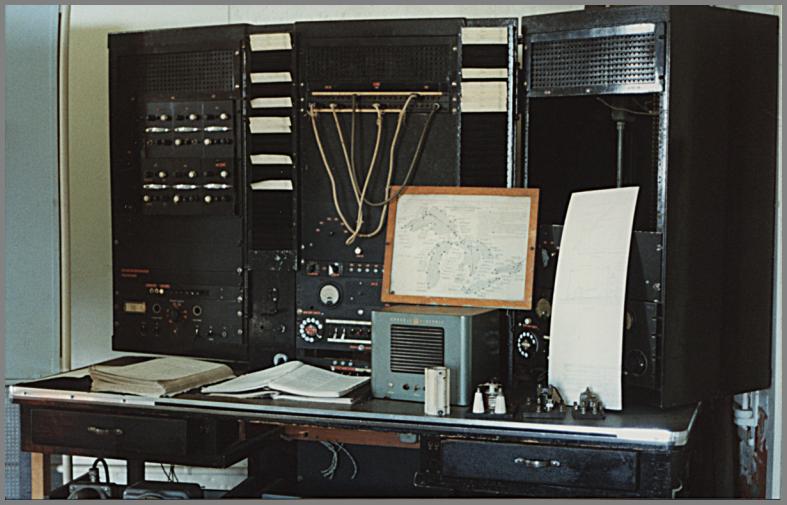 The above photo of the former WAS operating console was photographed in 1996 or 1997 by Mark Karney, N9JWF at the (now closed?) museum near the Two Harbors, MN lighthouse. Notice that there is some similarity to the 1937 operating room at WMI. Perhaps it is the same equipment moved from to Lorain to Duluth when the Lorain station expanded in the '40's or maybe they built identical setups for all three stations? The 50's Al Klopp photo above has the Hammarlund receivers just like the 1937 WMI photo. The Hammarlund receivers are gone in this photo replaced in the left rack by six receiver channel strips from their maritime units. The same change was made at WMI. In the 1954 WMI photo there are many Hammarlund receivers in the equipment rack on the right. In the >1955 and 1958 photos, all but two of the Hammarlund receivers have been removed and eight receiver channel strips installed.

Here's a link to the WMI page which also provides more information about Lorain Electronics, the owner of this station, WAS and WMI.
Some of the WAS Crew and Their Recollections
| | | |
| --- | --- | --- |
| NAME | JOB | YEARS |
| Melvin (Mel) Werking | Manager | 1941 - 1944 |
| Edward Ansell (ex W9PSA) | Operator | 1943 - 1945 |
| Albert E. Klopp, W0QXI (SK) | Manager | 1944 -1979 |
| Walter Clayton Toms W0PIH (SK) | Operator | 1944 - 1979 |
| Dorothy Wolf (SK) | Operator | 1946 - 1979? |
| Lloyd Horton | Operator | 1943? - 1945+ |
| Dale Grimwood (SK) | Operator | |
| Jim Scott | Technician | 1943? - 1945+ |

Dorothy Wolf usually worked the night shift and had a wonderful very deep and sultry voice. She was a remarkable woman who was deformed at birth and as a result was very small with a curved spine and one leg about 6 inches shorter than the other, She lived in a custom-built home not far from WAS. She had kind of a fan club of ship captains going, and when she would sign the station off in the evening usually an anonymous caller would chime in "Goodnight Dorothy". Though she never met any of the captains they would send her bottles of liquor at Christmas. It's doubtful that they knew of her deformity. She was a great woman and by overcoming her adversity had a great life. This information provided by her nephew, John Wolf.